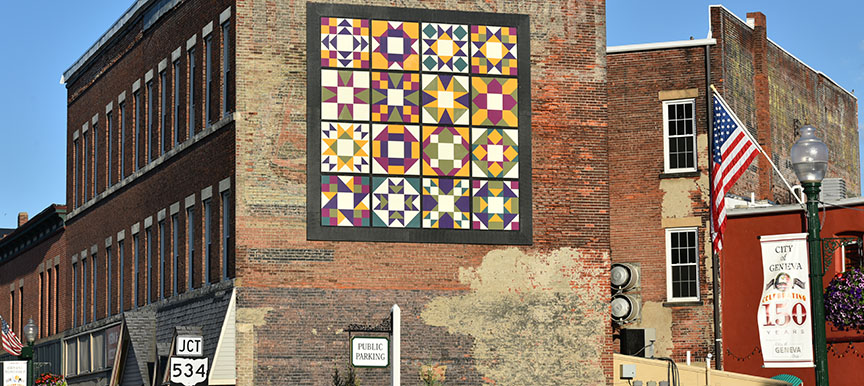 Address:
West of 81 East Main Street (Route 20), Geneva
Directions:
From Interstate 90, Route 534 exit, head north on Route 534 to U.S. Route 20 in the City of Geneva. Turn east (right) onto Route 20, quilt will be on the brick building on north side of the highway.
Artist:
Various, coordinated by Amanda White of the City of Geneva with assistance from Ashtabula County Barn Quilts Steering Committee members.
About the quilt:
The quilt was conceived as a way to celebrate Geneva's 150th anniversary as a village (later a city) in 2016. Sponsors purchased the blanks and the painting was done by volunteers during the spring of 2016. It was raised on June 20, 2016, and dedicated July 23, 2016.

The photograph above shows the barn quilt the day of the dedication, at which time the barn quilt's sponsors were recognized and vinyl logos placed on the sponsored blocks.
Sponsors are: Geneva Shores, WKKY, Rae Ann, Lakehouse Inn, UHHS Hospitals, Platt R. Spencer Historical Society, Pairings, American Electric, Great Lakes Ashtanga Yoga, Edward Jones, Pin Oaks Golf Course, Northwest Savings, Crosswinds, Crawford Insurance Agency, Geneva Rotary and Geneva City.
Credits:
This task was a huge undertaking that was coordinated by Amanda White of the City of Geneva. Kathy McCarty of the Barn Quilts Committee served as adviser and hands-on artist. Jeff and Rachel Scribben, and son Brandon, built the quilt blanks and assisted with the installation. Jim and Donna Kujanpaa loaned supplies and helped with the pattern transfers.
Painters were Shelly Huff, Nadine Mooneyham, Jenny Cecil, Janice and Mary Joe Tacket, Platt R. Spencer Historical Society members and Amanda White. 10 rolls of painter's tape was used in creating this barn quilt.
The Geneva Fire Department assisted with moving the blocks, which were painted in the city's recreation center.
Carl Vincent, Geneva streets department, and Tom Clay, of the city fire department, spent two days installing the quilts on the building.
The Geneva Community Improvement Corp., headed by Tony Long, provided funding, as did the Ashtabula County Barn Quilts Steering Committee.
Patterns:
The quilt measures 18×18 feet, making it the largest in the State of Ohio, possibly the United States.
It is made up of 16 4×4-foot barn quilts encased in a border.
Nearby attractions:
Geneva is the gateway to Ohio's wine country. There are more than 20 wineries in the area, and Pairings, a wine/culinary center, on nearby Park Street is a good place to start your exploration/sampling.
Also nearby is the shortest covered bridge in the United States and the Harpersfield Covered Bridge and Metro Park.