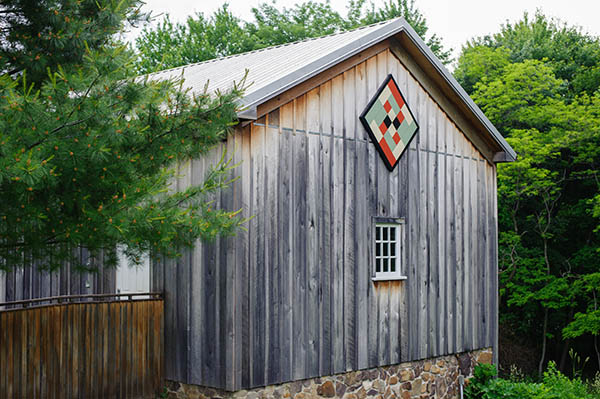 Address:
Seven Hills Road at Route 11, Plymouth Township.
Directions:
From Route 11, exit at Seven Hills Road; head west across the Interstate bridge to the log house on the north side of Seven Hills Road.
T
he quilt:
4'x4′, modified log cabin
Artists:
Kathy McCarty
The building:
John Blakeslee arrived in Ashtabula County from Connecticut in 1809. The following year he built a log house on his Plymouth Township property. This log home was acquired by the Ashtabula County Historical Society, which restored the structure and added other early-Western Reserve structures to help interpret the era and pioneer way of life.
The barn was constructed by students from the Ashtabula County Joint Vocational School over a period of several years. It uses native lumber and the interior siding is off the Mechanicsville covered bridge. The barn was selected as the first barn quilt in the county because it ties to one of the earliest extant structures from the years of settlement.
Events:
Log Cabin Days is held the second full weekend of September. There are cabin tours, food, entertainment and vendors.