Karla Gadley with one of the kids from her blueberry farm.
About the quilt & barn
Address:
2349 Plymouth Gageville Road, Ashtabula
Directions:
From Interstate 90, take Route 193 at Kingsville exit south to Plymouth-Gageville Road. Turn right to destination.
Sponsors:
Dennis and Karla Gadley
Artist:
Karla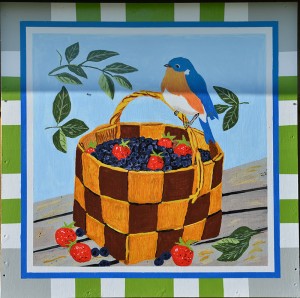 The quilt:
4×4 feet, original design
The Farm:
This farm was part of what once was a large orchard that stretched along Gageville-Plymouth Road in Sheffield Township. Evidence of the land's former use can still be seen in the occasional old fruit trees.
Karla Gadley grew up on the farm, owned by her parents, Vernon and Gladys Fuchs.
The high elevation and excellent drainage of both cold air and water toward the Ashtabula River make this "knoll" a good place to grow fruit.
"My mother always said we have one of the highest knolls in the county," Karla says. "She didn't say 'hill,' she said 'knoll.'"
Despite its favorable geography, the family ignored the orchard.
"When I was a little girl, there were still quite a few of the apple trees left here," Karla says.
She says one of the prior owners also operated an optometry office at the location.
The Gadleys allow a neighbor to use their farm for growing hay, but in 2006 they began to plant blueberry bushes on the knoll and by 2014 had 150 bushes. More are added each year.
The blueberry operation is pick-your-own and opens in early July. Visitors are entertained by the antics of the farm goats and chickens.
Karla selected a bluebird theme for the quilt, which welcomes blueberry customers to the farm. The building that hosts the quilt was erected on the site of the old barn that used to stand on this special knoll.