Address:
8050 Depot Road, Ashtabula
Directions:
From Interstate 90, take the Route 45 (Austinburg) exit. Go north on Route 45 to South Ridge (Route 84). Turn left, toward Geneva. Look for Depot Road on the right; proceed down road to railroad tracks; Ohio Heritage Farm will be on the right before the tracks.
Owners:
Al and Joann Forinash
Artist:
Jeffrey Scribben, Artistic Woodworks.
Quilt:
4×4, Twisting Star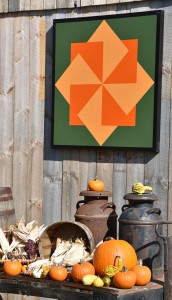 T
The farm:
Ohio Heritage Farm is a family-owned and operated organic livestock and vegetable farm. This quilt is displayed on their sale barn, which was erected in 2014.