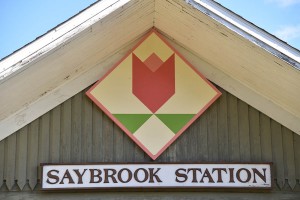 View nearby attractions
Address:
8050 Depot Road, Ashtabula (Saybrook)
Directions:
From Interstate 90, take the Route 45 (Austinburg) exit; head north on Route 45 to Route 84, South Ridge Road. Turn left (west) to Depot, on the right. Ohio Heritage Farm will be on the right, just before the railroad tracks.
Owners:
Al & Joann Forinash
Artist:
Jeffrey Scribben, Artistic Woodworks
Quilt:
4×4, Buttercup
The Depot:
Once a railroad passenger depot, this building has been repurposed as a Christmas shop for crafts and (not for sale) memorabilia from the Forinash family. Look for the childhood toys of Jeff Forinash, the owners' son.
Ohio Heritage is a working farm that produces specialty lifestock (chickens, hogs and beef) and grows organic vegetables on the farm at this site and on a second site in Geneva.
Note: The following story about Ohio Heritage Farm is reposted here from The Ashtabula Wave:
SAYBROOK TOWNSHIP — A son's leukemia diagnosis more than a decade ago set his parents, Jeff and Roberta Forinash, on a culinary journey that has changed the way they eat, farm and do business.
The late Joshua Forinash succumbed to leukemia in 2005, at the age of 22, after more than two years of fighting the illness with experimental treatments and nutrition.
"It changed the way we think, the way we farm. It made us change," says Jeff, 59, of their son's illness.
At the time, the couple operated Girard's Nursery on Route 20, a business that was started by Roberta's grandfather, Pete Girard Sr., in 1946. The wholesale/retail nursery developed, propagated and marketed patented rhododendron and azalea varieties The family has since sold the Route 20 location and consolidated their multi-faceted business at the Depot Road property, which has been in the family for decades.
The relocation makes for a more efficient operation for their son, Peter, and his wife, Huanyuan, ("She's from France," quips Jeff, whose sense of humor is exceeded only by his strong work ethic and knowledge of horticulture). The family offers both landscape plants and services, as well as a new venture, organic vegetables.
Jeff and Roberta were told that Joshua best shot at survival would come from a diet devoid of chemicals, antibiotics and genetically modified food common in our American diets. But Jeff says they soon discovered that finding organic food was impossible in Ashtabula County; the Cleveland area was the closest source.
"Now, we're trying to fill that need," Jeff says.
The Forinash family: Al and Jo-Ann (left, standing); Jeff and Roberta (seated, center standing) and their son, Peter.
Their Ohio Heritage Farms on Depot Road in Saybrook Township grows organic vegetables, some fruit and beef, chicken and pork without chemical additives.
"We have gone back to the basics. We're growing food the way it was originally grown," Jeff says. "We're not using chemicals."
Not even chemical fertilizers. Composted leaves and wood chips that come from individuals, the City of Geneva and Geneva-on-the-Lake are input material for the farm's compost, which they spread on their fields and sell direct to consumers.
The vegetables they grow are sold at a stand in front of their farm (across from Saybrook Feed and Garden) and through Community Supported Agriculture (CSA) plans. Jeff says although they grow their produce organically, they do not charge a premium for it.
"We feel we are very competitive with other growers," he says.
Many of the landscaping plants that Girard's was famous for are available at the farm market. Jeff says the big shift in their landscaping side of the business is that they are retail only. They continue to offer landscaping services, as well.
Their farm also raises pork for the freezer. Their main hog breed is the Red Waddle, which originated in Australia and was found in Texas. "It's a leaner meat," Jeff says. "The hog likes to forage and is more a hay eater than other breeds."
He anticipates having between 50 and 100 hogs in production by spring, however, even at those numbers, "everything in production is reserved," Jeff says.
Al and Jo-Ann in the doorway of Saybrook Station.
The farm also offers chickens, beef and eggs from free-range chickens, all produced without hormones.
A market building is under construction and will be ready for use by this fall. The Ohio Heritage Farm building will sell homemade jams, jellies, maple syrup and other farm products. Built in the style of a railroad freight office, the 24-by-64-foot building features spruce siding cut from logs harvested from the family's woodlot.
It is complemented by an original passenger train depot associated with the property since the Nickel Plate Railroad put a line through northeast Ohio more than 130 years ago. For Jo-Ann Forinash, the building houses both charm and memories. She grew up just down the road, on another farm that originated with her grandparents.
"I used to come over here and pay 10 cents at this (ticket) window to ride the train to Ashtabula," Jo-Ann says. "There were big old benches in here, but mother told us to never sit down on them. We had to stand up because we weren't to get cinders (from the steam locomotives) on our dresses."
Passenger service is long gone from this crossroads, but the Forinash family plans to offer plenty of customer service to folks who stop at the market that is housed in what they call the "Christmas Depot." The walls are lined are with Saybrook Township memorabilia, Jeff's childhood toys and mementoes of Ashtabula County from long ago. The store also sells crafts made by Jo-Ann, Roberta and other family members. At times, it is difficult to tell where the store ends and the museum begins; just look for the "not-for-sale" sticker to avoid having to ask.
In addition to selling and crafting, the women work on the farm alongside Jeff, Peter and Al. Most days, there simply are not enough hours to get everything done — Jeff usually starts at 7 a.m. and goes late into the night. Even so, he keeps coming up with more ideas for his market.
One of those is birch syrup, a product similar to maple syrup but made from the sap of the birch tree. The family has a stand of birch trees that they plan to tap next spring.
"I've never had birch syrup, so I have no idea what it tastes like," Jeff admits. "I guess we should buy some and try it before we make something that tastes
Ohio Heritage Farms is open 9 a.m. to 5 p.m. Tuesday through Saturday; 10 a.m. to 4 p.m. on Sunday. You can purchase their organic produce at the Farmers Market, Bridge Street, Ashtabula Harbor on Sunday mornings.