About the quilt & barn
Address:
8392 Old Salt Ridge Road, Williamsfield
Directions:
Route 11 to Route 322; head east toward Williamsfield; Old Salt Road will be on right after the Ashtabula County Antique Engine Club grounds. Quilts may be hard to see in summer when foliage blocks the view; quilts hang on the barn door and south hay mow area.
Sponsors:
Tom and Garri McGuiness
Artists:
Tom and Garri McGuiness
The quilt:
Pinwheel Star, 4-by-4 feet (a second quilt was added in 2015 and appears on a shed near the barn).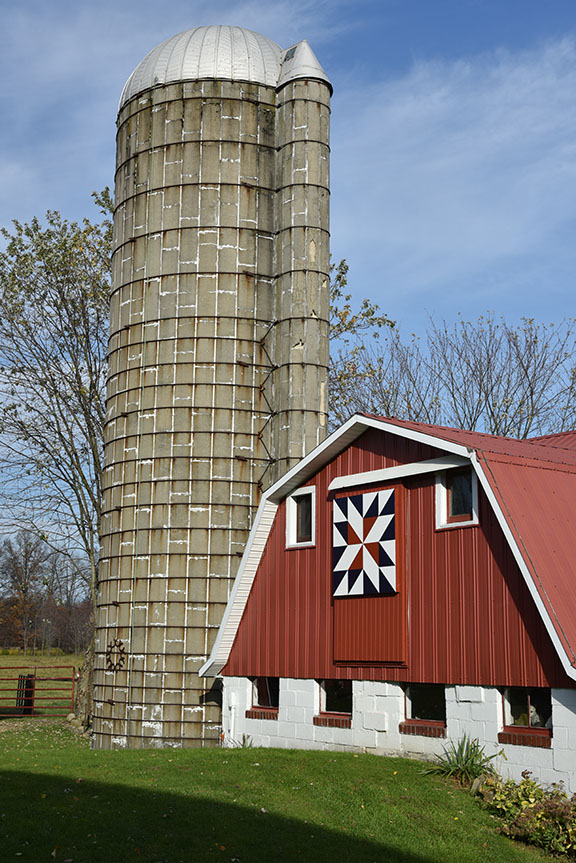 The barn:
The McGuinesses were living in the Lake Tahoe, Calif., area when they began searching for affordable farmland elsewhere. A native of Boardman, Tom included Ashtabula County in his search and came upon the 75-acre farm on Old Salt Road. They purchased the farm in 1978 and moved to Ohio the following year. Tom couldn't find a job because all the Mahoning Valley steel mills were shutting down, so he tried dairy farming. "I found that it was a lot better to work," says Tom, who eventually found work in Geauga County. He gave up dairy farming and transitioned the property to a grass-fed beef operation. Garri learned about barn quilts from Cynthia Nagy, a co-worker who has the Mapple Leaf barn quilt in Jefferson. The couple attended a seminar on how to paint a barn quilt and went to work on their quilt in the fall of 2014. The couple have raised several farm buildings on the property since moving there. The original barn still stands and has been renovated. They plan to install several barn quilts on these structures and dream of getting the concrete silo repaired and painting it as one huge barn quilt!