Address:
636 Route 534, Geneva
Directions:
From Interstate 90, take Geneva exit, Route 534, south to vineyard, on the left. Winery is down long row through the vineyard.
Quilt:
Ohio Star, modified. 4X4 feet
Owner:
Tony & Mauri Kosicek
Artist:
Artistic Woodworks, Jeff Scribben
Production photo: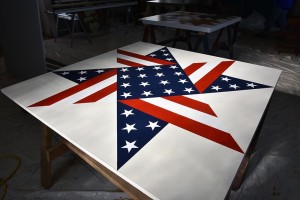 About the winery:
Six years ago, Tony and Mauri Kosicek wrestled with what would become a life-changing decision for them. Investors who wanted to start a new winery in the Grand River Valley had presented them with a very attractive offer for their Route 534 vineyard. The farm had been in the Kosicek family since the 1920s. Planted in Concord grapes, the land was still producing  income for the family, but the return was nothing like the offer on the table.
Tony and Mauri ran the numbers, thought about the land's heritage, and rejected the offer.
"We would have had to pay something like 30 percent of it to the federal government in capital gains and income taxes," Tony says. "I figured that if we were going to give away that much money, we would just (start a winery) here ourselves. The offer was very good, but I couldn't give the government that kind of money for the family farm."
Tony and Mauri literally bet the family farm in a bold plan to transform this aging Concord vineyard into a winery specializing in European varieties.  They planted five acres of vinifera varieties, put up a 2,000-square-foot production facility/winery, purchased equipment and, using outsourced grapes,  made their first vintage in 2012. The winery open for business Nov. 8, 2013, with 10 wines on the list.
"We wanted to open the doors with our own wines," says Tony, who does everything from making the wine to greeting customers.
While wine-making has been in the family for decades, Tony's professional experience was limited to a stint with Ferrante Winery a couple of decades ago. He's been a salesman at Great Lakes GMC Buick in Ashtabula Township for the past 18 years, and his wife works for Dr. Seeds. They retained their day jobs during the period of planning, building and opening the winery. Now that the operation is open, they have scaled back at their jobs to four days a week; they spend the other three and most evenings at the winery.
The couple have two children, Emma, 13, and Anthony, 10, who are very involved in sports. And they have a house in Ashtabula, which is used mostly for sleeping.
"We don't see much of our house," Tony says.
The future of the family's farm rides on the sacrifices of time, money and labor they are willing to put into this venture. Tony says a winery has only one chance to make a good impression, especially in a region where there are some two dozen to chose from. Still, Tony feels the competition is good because it gives consumers variety and choice, and it keeps winery owners on their toes.
"The more the better," he says when asked if the market has become saturated. "They help bring more people in."
Tony's grandparents, Anthony and Jennie Kosicek purchased the farm in the late 1920s and raised grapes, livestock and produce that they sold in their hometown of Cleveland. A Slovenia immigrant, Anthony also made wine for family use.
The old farmhouse they lived in is gone, replaced by the one Tony's father built in the 1950s. Over the years, the size of the Concord vineyard has shrunk, but Tony and Mauri still sell Concords to Welch. While a profitable use of the land, it is not to the best advantage. Their site along Route 534, in the area of Sonny Lanes, is on a high ridge and offers the rolling topography that provides good air drainage. It's understandable that other winemakers were willing to offer a very attractive price for the land, which Tony and Mauri have owned for the past 20 years.
Tony did his research and talked to other winery and vineyard owners in the Grand River Valley Appellation before starting Kosicek Vineyards. He also received extensive technical assistance from the Grape Research Station in Kingsville Township, which continues to be his go-to resource.
Despite having done his research, his original estimate of cost was much lower than the final accounting.
"I thought I had a good idea of what it would cost," he says. "Take that number, and multiply it by three. It is very, very expensive."
Fortunately, Tony and Mauri already owned the land. Unfortunately, it is planted in Concords, which have minimal value to a winery that targets consumers with a more sophisticated palate.
"There are only so many people who drink Concord wine," Tony says. "Probably 90 percent of your wine drinkers want to get the (vinifera) style of wines. We do sell Concord, however, and we sell quite a bit of it. We do sell quite a bid of sweeter wines. But our goal here is to become well known for drier, white, quality wines."
Another goal is to become estate, although Tony says that is a high bar to reach because of the many varieties that must be grown. "My hat goes off to wineries that are estate," he says.
"Our idea of a winery is to be in a vineyard setting, grow as many of our grapes as we can, and produce our own wine," Tony says.
For their initial planting of vines, Tony selected cabernet sauvignon, merlot, pinot noir, Chardonnay, Reisling and vidal. This spring, three more acres of cabernet sauvignon will be planted. Tony says that even with owning the land, he is looking at an investment of about $20,000 per acre to plant vinifera.
"We're starting from scratch here. We got one of the best places in the area as far as a location for growing grapes goes, but it is still an astronomical cost to plant," he says.
The bitter cold winter of 2014 took its toll on the young vines already in the ground. Tony says they lost the harvest, but not the plants, and he hopes to resume harvesting from his five initial acres of vinifera this fall. The fruit will need to meet his criteria, however.
"You can't make good wine from bad grapes," he says.
The wines they make have catchy names, including one that is perfectly timed with the Buckeyes' success: Urban.
"But it's not Urban Meyer," says Tony as he rolls a bottle of the cabernet franc wine in his hand to show the very hip, urban design on the label. "We let each person's mind take it where they want to."
Wines are priced from $13.99 to $23 per bottle; by the glass, the pricing is $6 to $7.
Tony says that the winery's inaugural year was very good. "It exceeded our expectations as far as bottle sales," he says. "The challenge has been keep up our inventory of good, quality wines."
Tony says they rely upon volunteers to help them on bottling days.
"We typically bottle about 800 gallons, or 4,000 bottles, a day," he says. The winery does not own an automated bottling line, so the process requires the work of many hands. Even their children help out around the winery when things get very busy.
The winery offers live entertainment on Saturday evenings during its three months of winter hours(closed Monday-Wednesday; noon to 6 p.m. Thursday, noon to 9 p.m. Friday and Saturday, noon to 7 p.m. Sunday.) Starting April 1, the winery is open seven days a week and entertainment is added on Friday evenings, as well.
The winery's food menu includes pizza, meat and cheese trays, dipping plates and Slovenian apple strudel.
Tony says that, in addition to planting vines, they plan to do some landscaping work to the grounds this summer. Otherwise, after six years of intense labor and investment, they see 2014 as a good year to "catch up a little bit."
As a car salesman, Tony finds it quite natural to greet people and make their feel comfortable in their winery. Indeed, he occasionally helps a winery customer with their transportation needs, as well.
If you visit the winery and get a chance to meet the owners, be sure to ask them to pull out the newspaper article about his aunt's and uncle's winery that was in Geneva. Aptly named "Geneva Winery," the business was located on South Ridge Road. It went up in flames in late November 1949; the fire claimed 65,000 gallons of wine, about 13 times the annual production of Kosicek Vineyards.
"65,000 gallons is a lot of wine," he says, reading the yellowed newspaper clipping.