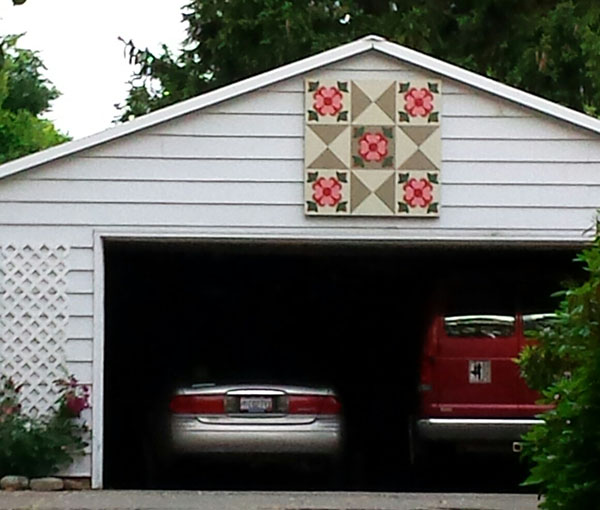 Address:
2000 Columbus Ave., Ashtabula
Directions:
Columbus Avenue intersects East 6th Street/ Lake Road (Route 531) west of the Route 11 terminus at Route 531. Turn left (south) onto Columbus at the traffic light.
Pattern:
Ohio Rose Star
Artists:
Karen Stevenson, daughter of the owner, and Lauri Watts, who was the main painter and designer.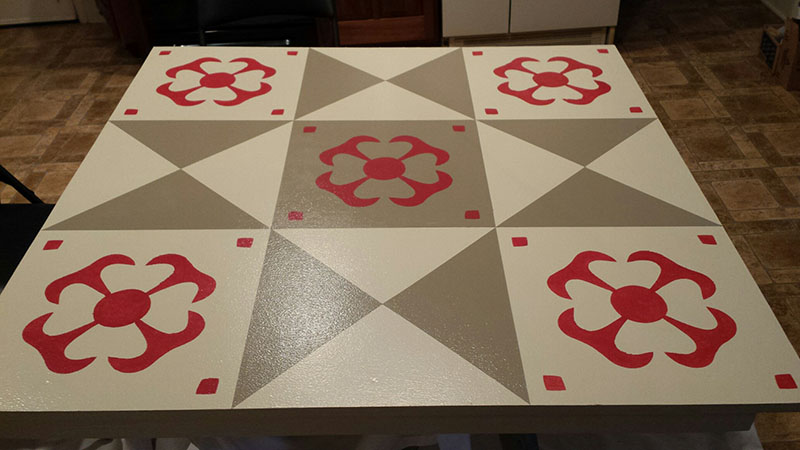 Quilt story:
This narrative was written by Karen Stevenson
Presented as a surprise gift on Mother's Day 2015, the Ohio Rose Star quilt pattern was carefully chosen to represent the 100+ rose bushes that Arnold & Sandra Brown tend in their home gardens.
As members of the American Rose Society, they have learned to cultivate beautiful roses – large, small, colorful and fragrant. They often clip a single rose and take to family and friends in a bud vase. The rose is our national flower and joining The Rose Society of Ashtabula County is a great way to learn how to grow beautiful blooms yourself. In June 2012, The Garden Trails Garden Club of Ashtabula recognized their yard and gardens as "Garden of the Month".
Meeting weekly from January to April, Karen Stevenson (daughter) and Lauri Watts (artistic friend and designer) pushed aside the kitchen table to put the 4'x4' wooden blank on saw-horses in order to tape, paint and stencil the five different colors into a very detailed barn quilt!
The quilt pattern is an applique design that required custom stencils to be created from the original pattern by Julie Bragg of Wellington, OH. The Ohio Rose Star quilt was made in celebration of the bicentennial of the state of Ohio, 1803-2003. The traditional Ohio Rose quilt pattern is incorporated in the Ohio Star background. To see more designs that Julie has made for family and friends, view her work at www.spiritof76quilts.com When people ask Julie, "What makes a wonderful quilt?" I don't have to think twice. "A wonderful quilt has a combination of piecing and appliqué with a lot of quilting."