Address:
102 East Jefferson St., Jefferson
Directions:
From Interstate 90 take Route 11 south to the Route 46, Jefferson exit. Go about 5 miles to the village of Jefferson. At third light, intersection of Route 46 and East Jefferson, turn left; proceed to park on right.

Quilt:
Star and Crescent
Artists:
Gary Tabor
Sponsor:
Ohio 99th-District Rep. John Patterson, D-Jefferson
Joshua R. Giddings: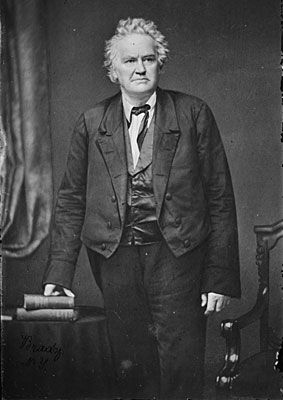 Joshua Giddings was a lawyer, U.S. Congressman from Ohio and outspoken opponent of slavery. He served in the House from 1838-1859. His political affiliations included Whig and Free Soil. Giddings helped form the Republican Party.
Giddings died in 1864 and is buried in the nearby Oakdale Cemetery in Jefferson.
The law office:
Built in 1823 to house the rookie lawyer's law practice, Giddings' office is a simple, frame building that was originally located on North Chestnut, at the site of the present-day McDonalds restaurant.
It is listed on the National Register of Historic Places. The building is owned by the Ashtabula County Historical Society, which hosts tours and events at the law office several times a year. For more information about arranging a tour, call 440-576-3768.