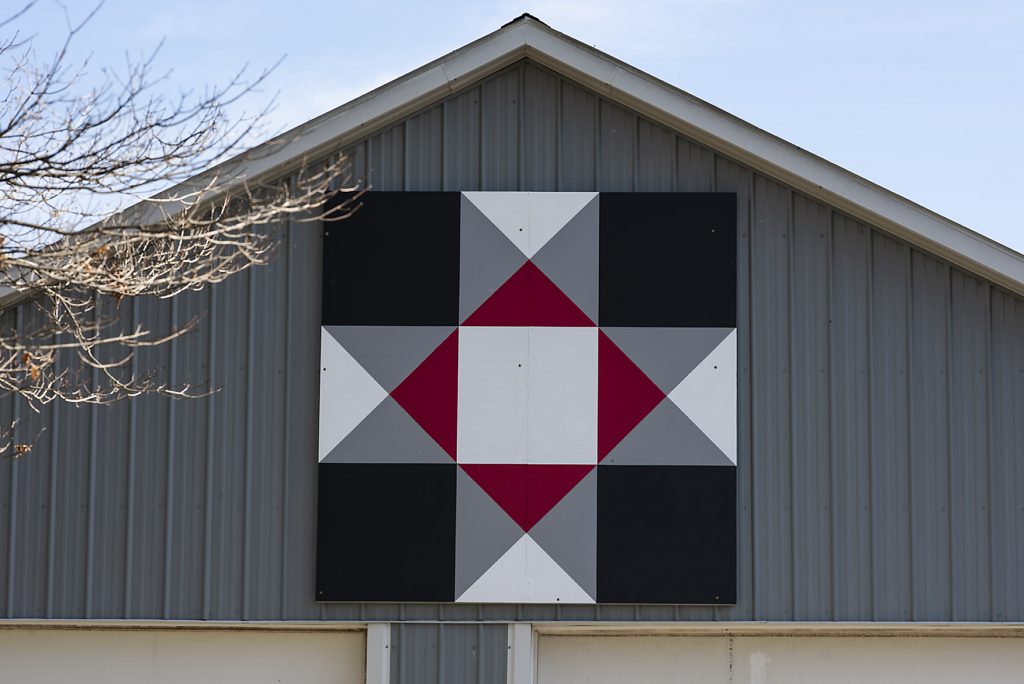 Address:
6250 Route 534, North of Route 86/534 split, South of Hartsgrove Township square.
Directions:
From Interstate 90, go south on Route 534 toward Trumbull County. After you travel around the Hartsgrove Township square, the Hammon farm will be on the east side of the road several miles south, past the large Nye farm.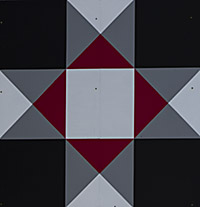 Quilt:
Ohio Star done in Ohio State colors
Owners:
Chris and Cheryl Hammon (painted by owners)
Owners' statement:
This 8-by-8-foot Ohio Star quilt was designed and built by the owner; it hangs on a pole barn built in 2000 at 6250 Route 534, Hartsgrove Township.
The colors of the quilt reflect the gray, black and white colors of the century home; red was added because it is Cheryl's favorite color.
The 72-acre farm has been in Cheryl's family for four generations, since her grandparents, Harold and Gerry Whitten purchased it at the end of World War II. Harold raised wheat and soybeans and helped his parents operate a dairy farm nearby.

"My brother Jeff and I were raised next door to him and helped him with farm chores, including planting the grains and maintaining the machinery. There was a huge vegetable garden on the farm, where he grew incredible sweet corn," Cheryl recalls.
Chris and Cheryl Hammon have lived on the farm since 1984. The tillable land is leased, but they raise a garden on the property and maintain the woodland.