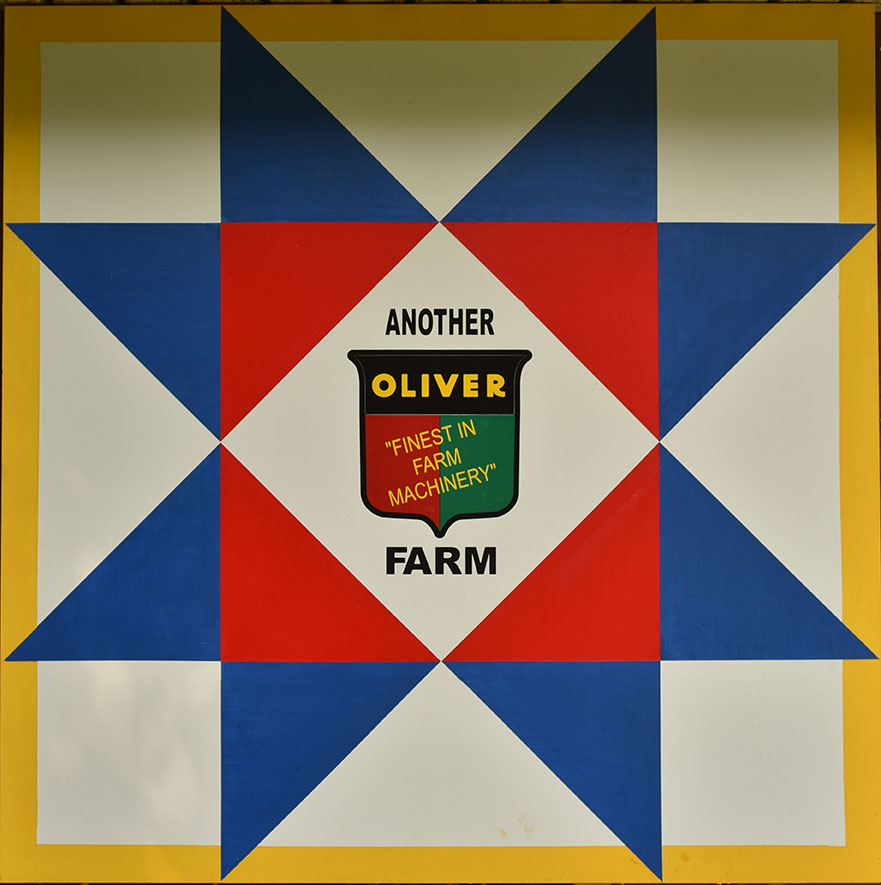 Address:
8843 Turner Mullen Road, Kinsman, Ohio
Owners:
Harold and Betty Babb
Pattern:
Ohio Star with Oliver farm machinery logo.
The Story:
(from the Warren Tribune, July 30, 2017, written by Burton Cole:
KINSMAN — Technically, it's mounted on a carport that resembles a covered bridge. But the bright 4-foot-by-4-foot square with the Oliver Farm Equipment crest marks the first block of the Barn Quilt Trail in Trumbull County.
The national Barn Quilt Trail is series of squares that can be thought of as the patches that would be sewn together in one big, storytelling quilt. The colors, patterns and symbols on each block portray something about that resident's life.
"I had seven Oliver tractors so I kind of wanted to get that in," retired farmer Harold W. Babb, 82, said.
"I picked the Ohio Star," his wife, Betty, also 82, said.
The triangles that make up the Ohio Star quilt block pattern on their carport at 8843 Turner Mullen Road — also known as State Line Road — are painted red in the middle and blue on the outside, with a white background and a white diamond in the center.
"We wanted red, white and blue to be patriotic," Harold, an Army veteran, said. "Being an ex-serviceman, that means something me."
In the center of the star is the Oliver tractors logo. The border of the 4-foot-by-4-foot block is done in Oliver yellow.
"All the old Olivers in the '50s and '60s had yellow grilles and yellow trim," Harold said. "Being a poor farmer, I couldn't afford a new one. The last tractor I had was a 1965 Oliver 1650."
The Ashtabula County Barn Quilt Trail boasts 91 squares since the idea was pitched in 2013. Organizers expect to hit 100 patches before summer ends.
"We're hoping this will get Trumbull County into it, too," Harold said. "We've been seeing what we can do to promote it and seeing what we can do to build interest in it."
"We see it as a way to bring tourism to the county," Carl E. Feather, the administrator of the Ashtabula County Lodging Tax Department, who is filming a documentary on the Ashtabula County Barn Quilt Trail, said.
"But it's not just about looking at pretty barn quilts. This is our heritage," said Feather, the author of several books on Ashtabula County history.
For decades, Ashtabula County has worked to restore, maintain and rebuild covered bridges. The county boasts the most covered bridges in Ohio, as well as the longest covered bridge in the United States, the Smolen-Gulf Bridge. Self-driving tours of the county's covered bridges and an annual festival are huge draws and an economic boost to the community. Feather said the county looks to do the same with the self-drive barn quilts tour.
"We saw what could happen if we preserved our covered bridges. The people see our old barns as the covered bridges of the next generation," Feather said.
The first quilt trail was created in 2001 in Adams County after resident Donna Sue Groves painted a quilt block on her tobacco barn to honor her mother, Maxine, a quilting artist. Eventually, the community built what they called a "clothesline of quilts" on barns.
The idea grew nationally. Author Suzi Parron, a longtime Atlanta resident, saw her first quilt in 2008 during a road trip that took her through Cadiz, Ky. She since has written two books telling the stories of the painted quiltwork patches on barns across the United States. She also tours the country giving talks about the national trail.
"Chris Angerman and I decided after attending Suzi's lecture and slideshow in September of 2013 at the Ashtabula Friendly Quilters Guild that as quilters we would like to establish an Ashtabula County Barn Quilt Trail to promote our county as a part of a national trail," said Kathy McCarty of Ashtabula, co-founder of the county trail.
"I, with considerable help, turned my garage into a barn quilt-producing location and painted the first six 4-foot-by-4-foots after receiving orders from individuals and organizations that supported our early efforts. Interest grew with each piece installed and it snowballed from there," McCarty said.
A map listing all the barn quilts and covered bridges in Ashtabula County is posted on the county's Convention and Visitors Bureau website, visitashtabulacounty.com. The map will be updated to include a Trumbull County link until a Trumbull trail takes off.
Stephanie L. Sferra, executive director of the Trumbull County Tourism Bureau, said that's not likely to happen soon.
"No one person or organization has actually stepped forward to say that they're willing to take on the task," Sferra said. "It's a huge undertaking that can take several years to complete. And without a core group of people with a passion for the project, funding will be difficult to obtain.
"Some barn owners are hesitant to offer their barns for the displays for fear of being sued if a visitor is injured while on their property. And last, how will the program sustain itself? In other words, who's responsible for maintaining the designs?
"Yes, this would be a boost to tourism," Sferra said. "And it would be something that we would gladly promote. After all, the trail would be a great addition to our diverse tourism product as well as Ohio's."
To be part of the trail, quilt blocks must be either 8-foot-square or 4-foot-square. Originally, they were painted onto the sides of barns. Now, they are painted on sanded and primed plywood and mounted. The paint used is exterior latex or acrylic.
Harold Babb asked his longtime neighbor and school buddy Gary Tabor to paint their barn quilt. Tabor, 82, is an antique toy restorer at Tabor's Toy Museum in Williamsfield and began painting the quilt squares two years ago.
"I have number 46 on the table right now," he said. He will be demonstrating the art during the Ashtabula County Fair Aug. 8 to 13 in Jefferson.
"The toughest thing is getting them to decide on the pattern and the colors. I've learned I can't do what I want or I'll never get rid of it," Tabor said.
"A lot of them are, 'My grandmother made this and this is her design.' Sometimes it's hard to transfer cloth into paint. You do the best you can with the patterns. I like the bright colors. Grandma's pattern might use pastel colors. When you get 100 feet away, you can't see them," he said.
Harold and Betty Babb both farmed in Williamsfield. Harold grew up there and he and his late first wife ran a dairy operation on U.S. Route 322, a half mile west of state Route 7, in the middle of the township. His dad had bought the farm in 1941, and Harold farmed it from 1973 to 2009.
Betty, who grew up in Maplewood Heights, and her late husband, Jim Rutledge, eventually bought a dairy farm in 1973 in the very southeast corner of Williamsfield. She stayed there for a while after her husband died but 13 years ago moved into the ranch home in Kinsman. Harold followed her after they married and he retired in 2009.
"He has six children and I have four," Betty said. "We have 31 grandchildren, 33 great-grandchildren and one great-great."
They may have left their farms but their hearts remain in agriculture and the preservation of farms and the old barns.
"Some of us old-timers, we have feelings for old-time stuff," Harold said. "I hope we can help people to realize these barns are part of our heritage. That barn on my house was built in 1870."
If extending the Barn Quilt Trail into Trumbull County — or creating a lake-to-river trail all along eastern Ohio — will raise that awareness, he's all for it.
"I think it's fantastic," Harold said.
bcole@tribtoday.com