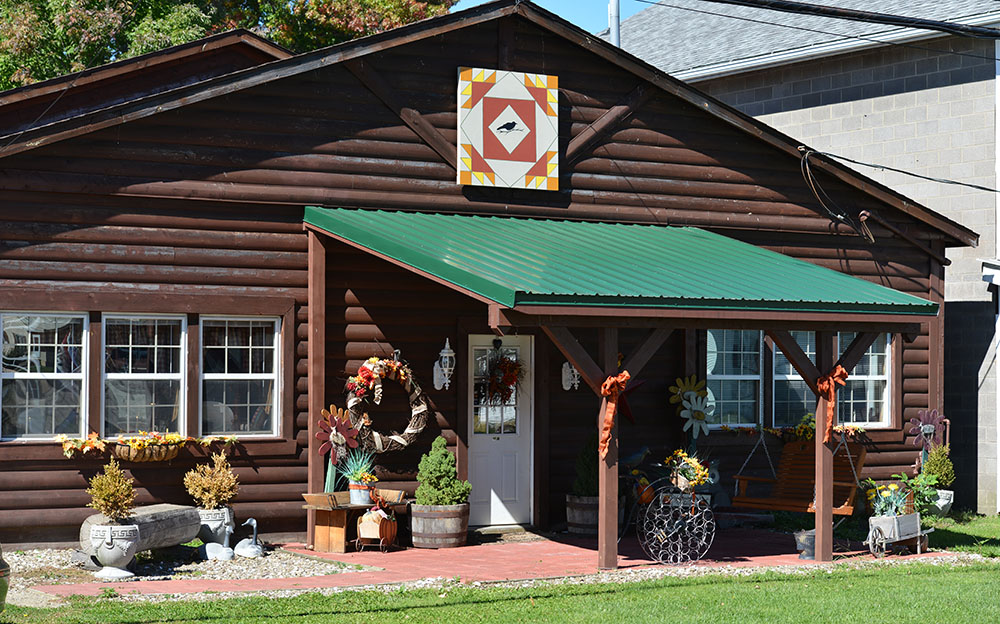 About the quilt and business:
Address:
Route 7 north of Pierpont corners
Directions:
Route 167 off Route 11; head east to Pierpont. At intersection with Route 7, turn north (left); Twigs and Crows will be on the left, south of the former brick school building.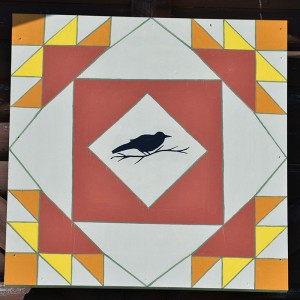 The Quilt:
4×4 feet. Fox trail.
Sponsored by:
Wanda Williams, owner
Artists:
Wanda Williams, Sandy Rollman
The business:
The building housing Twigs and Crows was raised in 1940 for a Hudson dealership owned by the son of the town's doctor. The front sales room of the retail shop was the showroom of the dealership, suggesting that Hudsons were the original compact vehicle!
The building has had numerous owners and businesses, one of them necessitating construction of a large garage at the rear of the building. That feature attracted Alvin Williams when the building was put on the market in 2012. He purchased it and suggested that his wife, Wanda, open a country decor and antique shop in the front part, which had been remodeled for a residence.
Wanda, retired from MFG in Linesville, had been working the craft show circuit with her painting on glassware. Having a building would give her an outlet for the glassware and other gift items.
The name comes from a crow that stayed with the family for 18 years. The bird took a liking to the family, which adopted it as a pet that lived in the basement. "It ate dog food," she says. "It could work the cellar door open, and when it talked, it sounded just like my husband. It would mimic you."
Assisted by her sister-in-law, Lydia Williams, Wanda opened the shop and holds regular hours there two days a week, 11 a.m. to 5 p.m. Friday and Saturday. Williams lives nearby and will open the shop by appointment, as well.
Call 577-1230 to see the shop by special appointment.