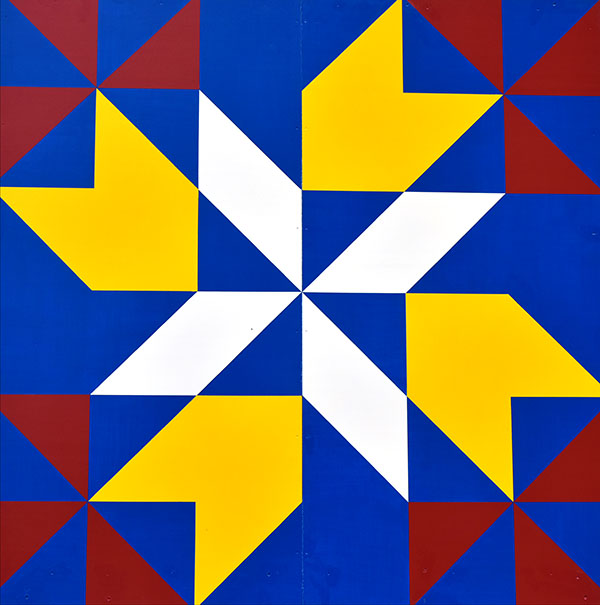 About the quilt & bridge
Address:
The Mechanicsville Covered Bridge is located south of Route 307 on Windsor-Mechanicsville Road, Austinburg Township
Directions:
Interstate 90 to the Route 45 exit; travel south to Route 307, head west. At Cope's Farm Equipment (look for barn quilt on their building next to the intersection), turn south (left) on Windsor Mechanicsville Road. Bridge is about one mile down the road and visible from the bypass bridge (sharp right turn).
Mechanicsville:
A ghost town today, in the 1830s Mechanicsville was a thriving mill town that took advantage of the water power offered by the Grand River. According to the Williams Brothers History of Ashtabula County, the town had a grist mill, sawmill, oil mill and other works. These were owned by Dr. Orestes K. Hawley and Joab Austin.
In 1831, the Ashtabula County Institute of Science and Industry was chartered. Charter incorporators were Rev. Giles H. Cowles, Moses Wilcox, Judge Eliphalet Austin, Dr. Orestes K. Haley, Joab Austin, Joseph M. Case, Jarius Guild, Ward Childs, Gains W. St. John and Rev. Eliphet Austin. They chose Mechanicsville as the location of this school.
Hawley envisioned a manual labor institute where the young men would work in the mills while preparing for the ministry or other higher callings. A similar school had been established at Oberlin, and when that school's census in 1836 exceeded the school's capacity, Mechanicsville absorbed the overflow of about 30 young men.
Students overran Mechanicsville but they could not run the mills. The school flourished, however, and with a grant of $25,000 from Joab Austin, the institute was moved to Austinburg. It remains there today as Grand River Academy.
The mills later burned in a conflagration that illuminated the night sky for many miles. It was said that the light was so bright as far away as Madison that one could read a watch dial from the distant glow.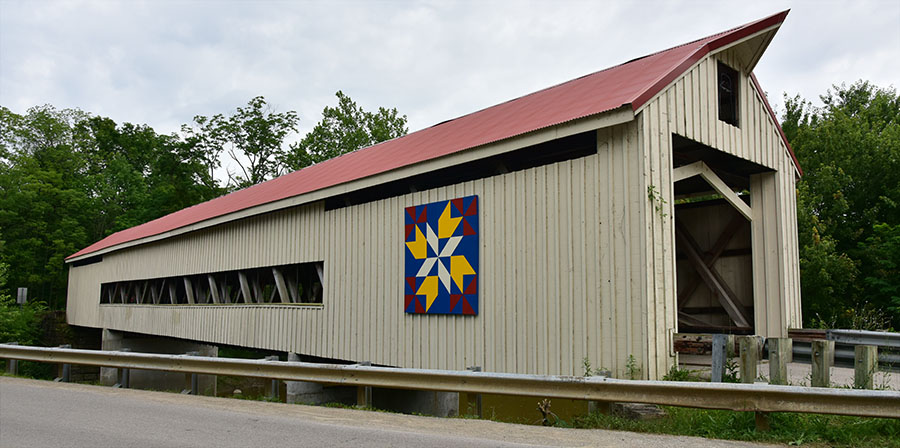 The Bridge:
A Howe truss bridge reinforced with an arch, the Mechanicsville Covered Bridge is one of two extant covered bridges in Ashtabula County with an 1867 construction date. It was rehabbed in 2004; prior to that, it had been closed to traffic.
Artists:
James and Donna Kujampaa of Austinburg Township.
The Quilt:
Austinburg Township wanted to dress up their historic covered bridge and received a grant through the Steering Committee's 2015 Grant Program. Donna Kupanjaa said they selected the Four Winds pattern because of Mechanicsville's location at the intersection of the Grand River and several roads.
Sponsors:
The barn quilt was made possible through a grant from the Civic Development Corporation of Ashtabula County. Austinburg Township Trustees applied for the grant. The Ashtabula County Highway Department and Engineer's office provide installation with assistance from Jeff Scribben of Artistic Woodworks and other volunteers.