Address:
3363 East Union Road, Lenox Township
Directions:
From Interstate 90, take Route 11 south to the Route 307 exit (Dorset). Head west, toward Jefferson. At East Union Road, turn left and proceed about four miles to farm.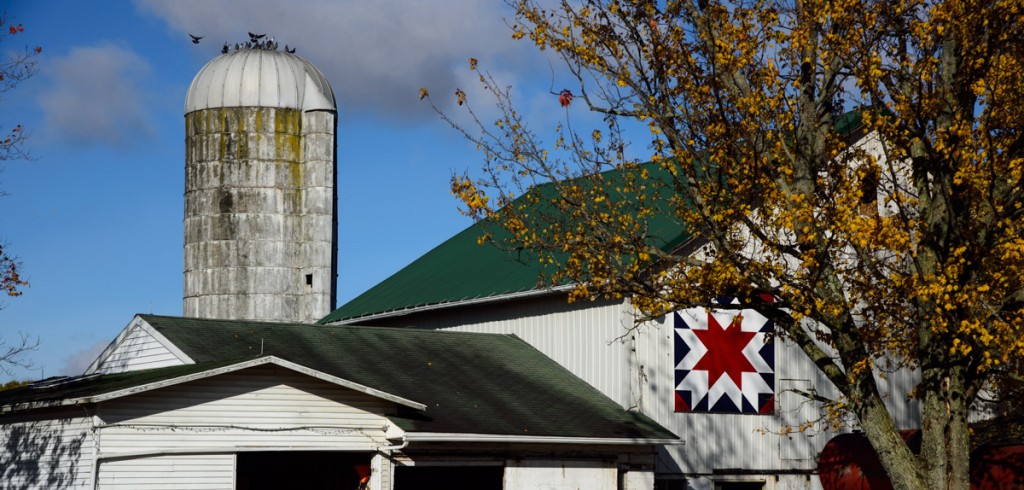 The Quilt:
Bold Star
The Artist:
Jeff Scribben, Artistic Woodworks
The farm: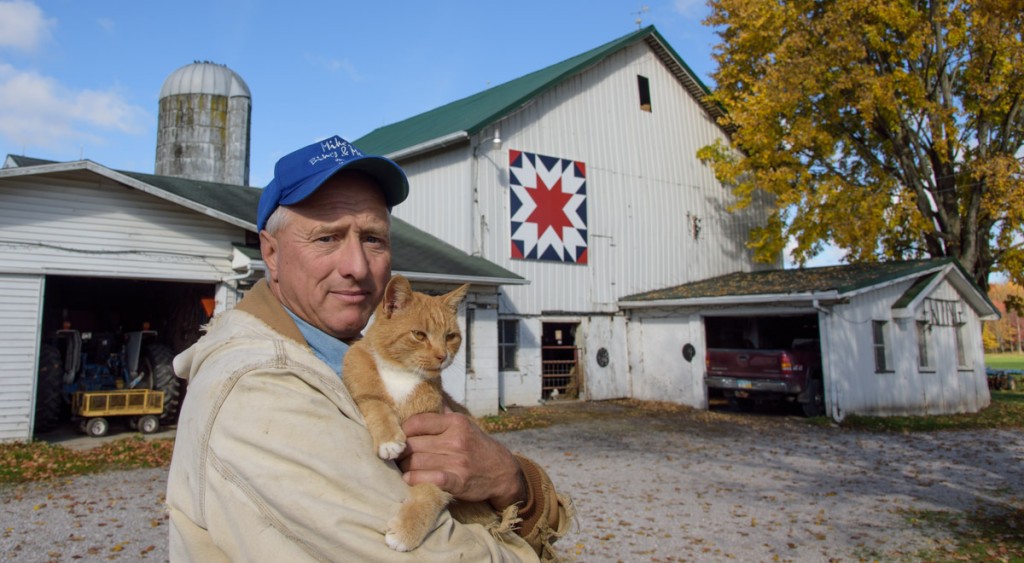 More than a week after the barn quilt was installed on the front of the family's white barn, Barbara Ewing is still moved by the sight of the dawn filtering through maple leaves and striking the quilt. The bold-star quilt shines at night, as well; the light from the security lamp on the barn spills onto the 8-by-8-foot square of color and symmetry.
The barn quilt honors her late in-laws, George and Josephine Ewing, who farmed this land from 1946 until George's death from a farming accident in 2007.
"I think George and Josephine were an amazing couple," Barbara says. "They were so much in love with each other, life. They raised four boys without going bankrupt during The Depression … they just kept it going. So this quilt is to commemorate George and Josephine and the pride they took in the farm."
Located at 3233 East Union Road, Lenox Township, the barn quilt is on the barn that George built in 1962 using the beams of a worn-out building that had stood on the same spot for untold decades.
"He used a lot of the big beams from the old barn," says Ted, who owns and operates the family beef farm.
George and Josephine purchased the farm in 1946  from George's aunt and uncle, Charles and Etta Wells, who had owned it since 1922.  With help from his wife and boys, George built the farm into a fine dairy operation.
George's parents were Clyde and Lucy Ewing. They were on their way to relocate in New England when they stopped in Lenox Township to visit Charles and Etta. Clyde was a famous wildcatter in the oil fields and decided to prematurely end his migration to New England because "he smelled oil" in the fields along East Union, says Ted. Clyde never saw any of that oil, however; he spent his time driving a combination milk transport/kid hack that delivered raw milk to the depot in Dorset and students to the township schools.
A brilliant mechanic, George became the first young man from Lenox Township to be drafted into service during World War II.  The attitude tests administered by the Army placed George at the top of the scale, and he spent his time in the service readying fighter planes for shipment overseas. He could have worked for Ford in Detroit after the war, but he chose instead to come back to Ashtabula County and work the land.  But his mechanical skills were of great benefit in an occupation that was increasingly become mechanized.
"It was amazing what he could fix," Barbara says.
"Dad had the first tractor on this road," Ted adds. "His father told him that it was the dumbest thing he ever bought. But he plowed all his land with it and plowed most of the land on this road."
With the birth of his first child Dan in 1947, Clyde's dream of having a son to help out on the farm was realized. Trouble is, the dream was realized again, and again and again.
"He never had a daughter," Ted says. "He wanted a son right off the bat so he'd have help farming, but he definitely wanted daughters after that."
Ted's cousins and boys from the neighborhood worked on the dairy farm in the summer. Ted says he enjoyed a terrific childhood growing up on the farm and his father was very good about making time for his sons and wife, despite the heavy demands of running a dairy farm. Baseball games were played in the side yard that had once been a corn patch, and the boys knew that if they worked hard, George would reward them with a trip to the ice cream stand.
George kept investing in farm land and, by the time he was nearing retirement, had acquired nearly 300 acres spread over four farms, one for each son. He retired from dairy farming at the age of 65, but soon bored of inactivity.
"Within two months he was driving my mother crazy so he started to buy beef cattle," Ted says.
George eventually reconfigured the barn to accommodate the new use. Ted and Barbara marvel at the ingenious layout, which facilitates a one-man operation through a clever configuration of gates and pens.
"I can move cows by myself," she says. "He thought it all out."
Ted worked for the Ashtabula County Highway Department for 30 years before retiring in 2007. He and Barbara lived in Jefferson, but eventually decided to build a new house on the farm.
Four days after Christmas Day 2007, Ted, Barbara and George were working on the farm when George slipped beneath the wheel of a farm tractor and was killed.
"What really made it rough was that Mom had died 12 years earlier, just four days before Christmas," Ted says.
Both parents are honored by the Bold Star barn quilt. The Ashtabula County Barn Quilt Trail offered grants for quilts on heritage barns this year, and Barbara and Ted decided to apply. Barbara, who is a quilter, looked at a lot of star patterns before settling on the Bold Star pattern. The quilt marks the first time the pattern has been used on a barn quilt in Ashtabula County.
"George was kind of a bold guy," Barbara says, fondly recalling her late father-in-law.
This story is available at The Ashtabula Wave website. Please use this link when reposting. Thank you.