Address:
3101 Lawton Ave.
Rock Creek OH
Directions:
From Interstate 90, take Route 45 south to Rock Creek; before light turn right on Lawton to residence.
Quilt:
Centennial pattern, 4×4, on front of residence.
This is the home of Barbara Hale, whose late husband, Dennis, was the sole survivor of the Daniel J. Morrell, which sank in Lake Huron during a storm, Nov. 29, 1966. Twenty-eight crew members perished.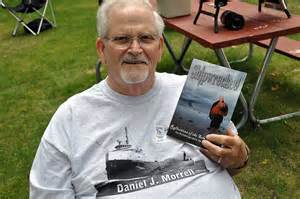 Mrs. Hale provided the following statement regarding the quilt.
Although this barn quilt is not on an historic building or barn, I am submitting it for the BQT due to the history of my husband, who commissioned it to be done by Jeff Scribben. He wanted it to be done in red, white and blue for the American flag because (Dennis) was a U.S. Army veteran and Jeff came up with this design. It is prominently displayed on the front of my house at 3101 Lawton Ave., Rock Creek, where he lived the past 18 years.
My husband, Dennis Hale, made Great Lakes history when he survived the Daniel J. Morrell ore freighter sinking on Nov. 29, 1966, on Lake Huron in a fierce storm. Of the crew of 29, Dennis was the only survivor of that tragedy; (he was) clad only in his under shorts, life jacket and pea coat. He spent 38 hours on an open raft, before being rescued by the U.S. Coast Guard, with 3 of his shipmates, who all froze to death within 14 hours. Dennis not only suffered physical pain, but mental anguish, too, waiting for his turn to die.
Weather conditions that night were 65 mph winds, 34 degree air temperature and 35-foot waves. The Morrell broke in half and sank about 8 minutes from the time the general alarm sounded. No SOS was given, and it was not reported missing until 34 hours later, when another ore freighter found debris with Morrell markings in the water.
After 20 years of silence due to post traumatic stress and survivor's guilt, Dennis started doing public speaking about his ordeal and found it therapeutic. He traveled all over the Great Lakes Region and even as far as California to Maryland and Canada to keep the memory of his shipmates and the Morrell alive. His motivational speaking encouraged people to never give up and to persevere in times of turmoil. He touched thousands of lives and many looked up to him for strength and courage. This year marks the 50th anniversary of the sinking, and Dennis so much wanted to be a part of it, but he passed away on Sept. 2, 2015, from cancer.
Nearby attractions: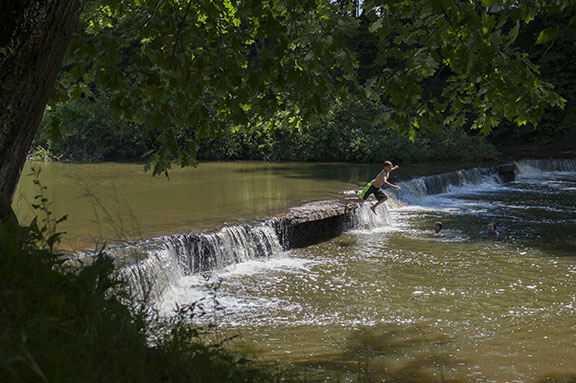 Just before the Route 45 bridge over Rock Creek is a drive (to the left if heading south) that leads to a small park along the scenic Rock Creek. The stream tumbles over a series of ledges at this point. Swimming (unguarded) is allowed.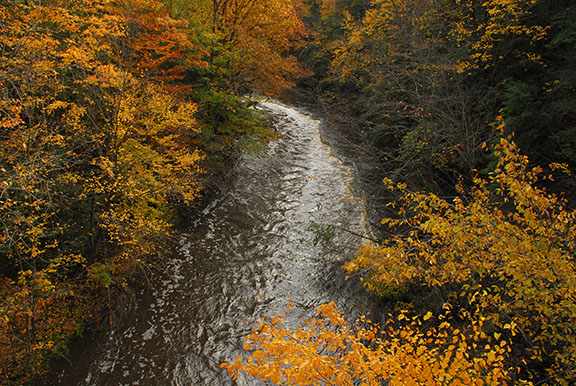 At the traffic light before the bridge, head left (east) to the trailhead of the Western Reserve Greenway Trail. A short walk south on the trail is an impressive railroad trestle that crosses Rock Creek.
North of Rock Creek is the Riverdale Road covered bridge.
Also in this is area is The Nature Conservancy's Morgan Swamp preserve. A walking trail is provided from the parking lot off Footville Richmond Road.