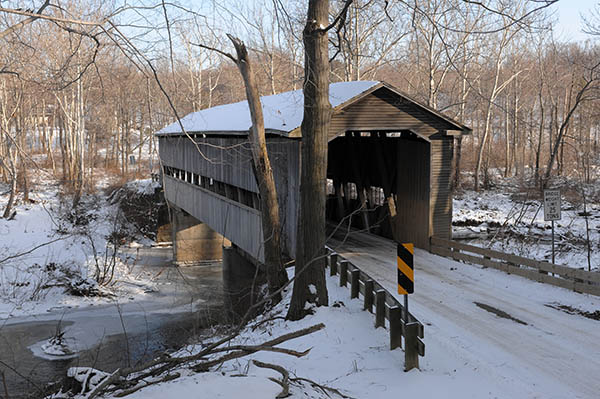 Location:
Middle Road, Conneaut. From Interstate 90, take the Route 7 exit, head south; at top of hill, turn left onto South Ridge Road. Head east to Middle, turn right.
Construction Date:
1868
Style:
Howe Truss
Length:
152 feet
Narrative from "The Covered Bridges of Ashtabula County" by Carl E. Feather (The History Press/2014).
This 152-foot-long Howe truss span became the subject of an emergency renovation in 1984 when its north end dropped 18 feet without warning in January of that year. Insert image 165
The bridge was closed and County Engineer John Smolen feared that, if snow were allowed to accumulate on its roof, the entire structure could collapse into the Conneaut Creek. The county's last "pure" Howe truss bridge was in danger of extinction. But Ashtabula County was in the grip of a recession that drove the unemployment rate to around 20 percent. Funds were tight, but Ashtabula County commissioners saw value in saving the bridge, and three volunteers – Robert Graf, Dean Horton and Guy Vorse – came forward to save the charming landmark. They were assisted by four paid college students and several country employees who, during 1984, saved the bridge as they worked under Smolen's supervision. Thanks to the volunteers, the entire project cost about $50,000.