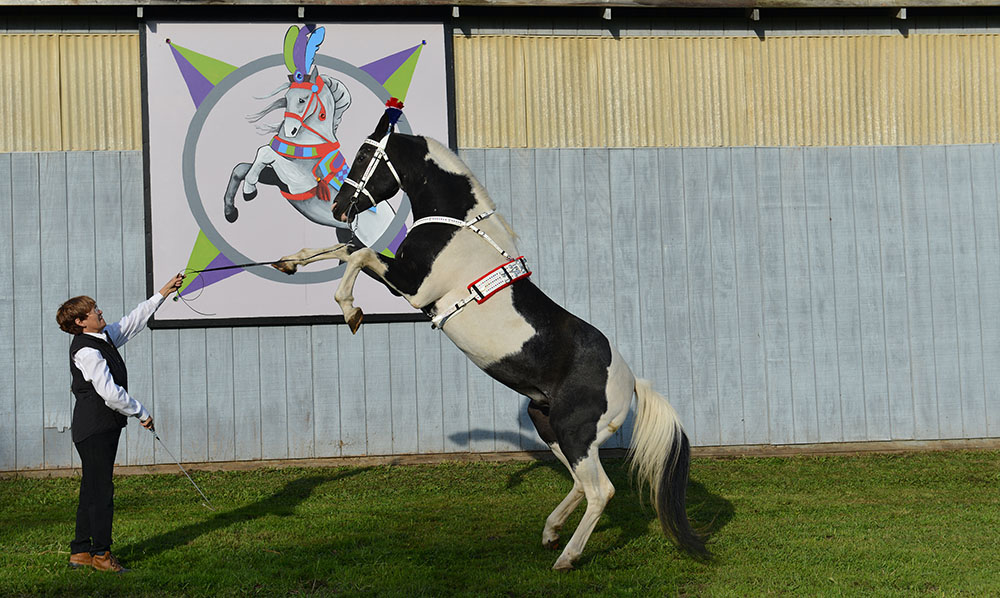 Jan Sharp, owner of Pinto Park Farm, shows off her trick horse, Black Tie Affair, in front of the barn quilt inspired by his multiple World Champion wins.
Address:
4141 State Road South, Plymouth Township (Ashtabula area)
Directions:
From Route 11, take the Seven Hills Road exit east toward Smolen-Gulf Covered Bridge. At intersection near railroad tracks, turn south, away from the bridge. Farm will be on the right side of road. Look for the large, gray, round house next to the barn.
Nearby Attractions:
Smolen-Gulf Covered Bridge (longest in the United States) and Smolen-Gulf/Indian Trails Park pedestrian bridge below it.
Artist:
Jan Sharp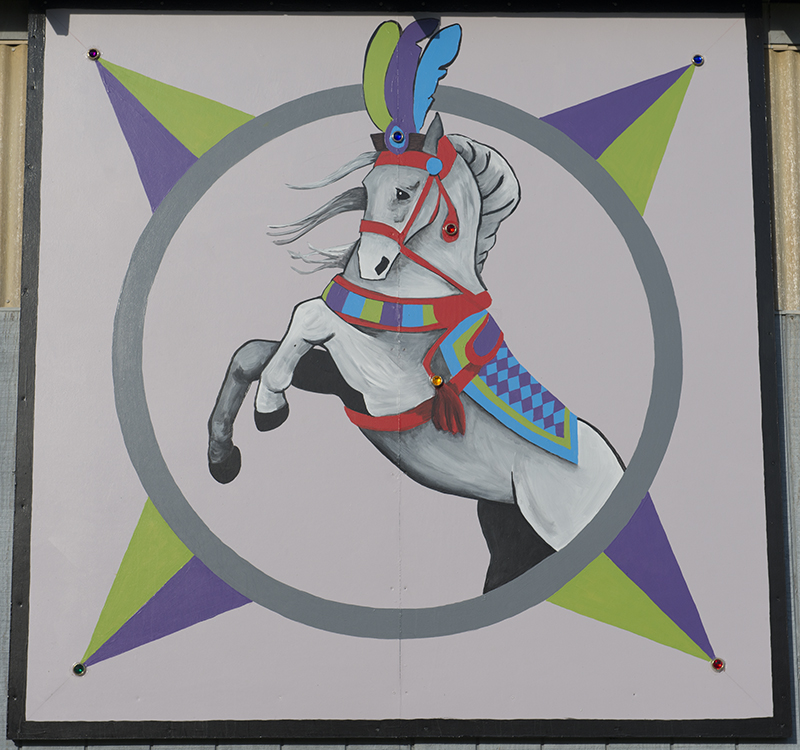 The quilt:
Freehand, 8×8 feet.
The farm:
Pinto Park specializes in spotted, pinto horses. The farm is located on land that has been in Jan Topper Sharp's family for decaees.
"My grandmother passed away the same year I got married (1978), so I bought this place," Jan says. "My grandmother (Margaret Topper) used to have sheep. When she first got the farm, she had to put the sheep in at night because of the wolves."
The 17-acre farm includes a post-and-beam construction barn of more than 100 years of age. The quilt is on a building that includes stalls and an indoor arena. Jan built it in 1989 to house her trick horses.
"My great grandfather was going to build a barn on that site, but I didn't know that until after I had finished my building," she says.
She learned to train horses as a child and discovered that she has a knack for interacting with the animals. Her first horse was "King."
"Back then, nobody taught you how to teach your horse tricks," she says. "It was all by trial and error."
The farm's champion horse, Black Tie Affair, was acquired at age 3. The horse is a 28-time World or World Reserve Champion. In 2011, Breyer released a model of Black Tie Affair in its Spirit of the Horse line of figures.
Jan chose this horse as the subject for her barn quilt, raised in September 2014. Jan, a very spunky and talented person, painted and installed the barn quilt.
In addition to Pintos, Jan breeds and trains miniature horses, which she uses as therapy animals with nursing homes and hospitals. The horses also participate in parades, weddings, festivals and other community events.