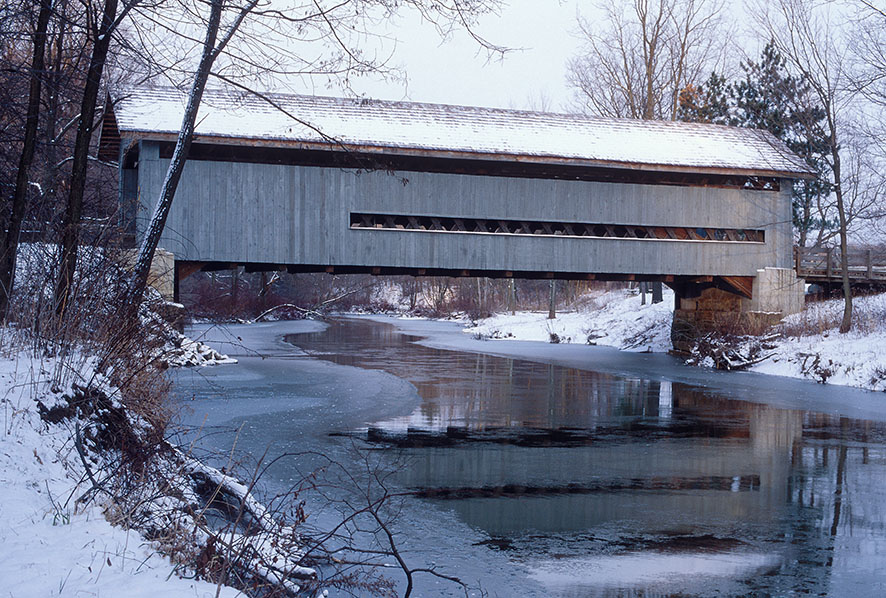 Location:
Doyle Road, between Clay Street and Route 307, Jefferson. from Route 11, exit at Route 46, Jefferson. Go south to Route 307, turn west (right) and continue to Doyle Road, on your right.
Construction date:
1868 by Potter (not verified by documentation)
Style:
Town Lattice with added arch
<5>Length:
84 foot span, 94 feet overall
Narrative from "The Covered Bridges of Ashtabula County" by Carl E. Feather:
Legend states that the Doyle Road covered bridge was built to look like a bridge in the Vermont hometown of the carpenter who built it. While history preserved this legend, it failed to mention the complete name of the carpenter who raised this Jefferson Township charmer. His name was "Potter," and no source could be found to expound upon that name. Insert image 055
The bridge spans Mill Creek northwest of the village and is of Town lattice construction. It has an 84-foot span and 94-foot overall length. Its most distinctive feature are the long, narrow windows on each side that expose the diamond-shaped lattice work and give approaching motorists a view of any other conveyance in the bridge. This original architectural feature was preserved during the 1987 major rehabilitation that was performed by Ashtabula County Highway Department workers.
Working under the direction of John Smolen, employees added a 90-foot laminated arch that reinforced the existing trusses and enables the bridge to handle modern traffic loads. Along that line, the bridge, which sits on a sharp curve, was widened by five feet, which allows two-lane traffic. Other improvements added in 1987 included a new floor and roof. The project cost $60,000 for materials.
This bridge is sometimes referred to as the Mullen Bridge, a reference to the E.L. Mullen farm associated with the structure in its early history.
Read more … purchase book.