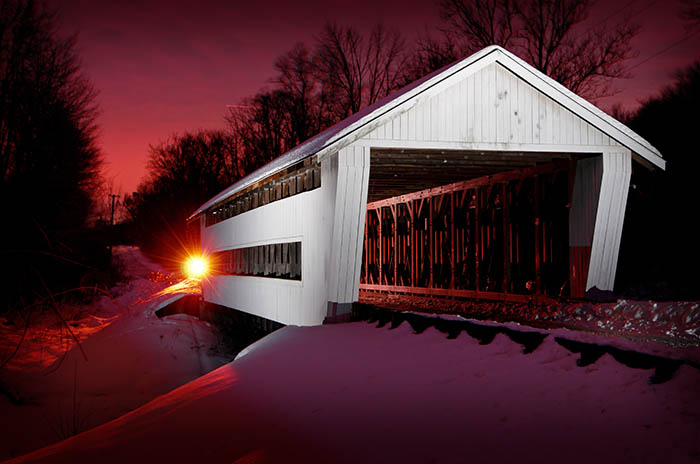 Location:
Giddings Road, Jefferson Township
Directions:
Route 11 to Route 46 exit; go south on Route 46 to Griggs Road; turn left onto Griggs to Giddings Road (on right).
Construction date:
1995
Design:
Haupt truss
Builder:
BOG Construction (Berlin, Ohio), designed by Ashtabula County Engineer, John Smolen; Laminated lumber by Sentinel Structures.
Length:
117 feet.
Narrative from "The Covered Bridges of Ashtabula County" by Carl E. Feather.
John Smolen selected the Pratt truss design for his third new timber-bridge venture in Ashtabula County. Crossing the Mill Creek on Giddings Road, the 107-foot-long bridge was completed in 1995.
The county received a federal highway grant of $427,000 to build the bridge. Smolen applied under a special section of the grant which allocated money for timber structures.
Sentinel Structures of Peshtigo, Wisc., fabricated the laminated timbers, which were transported to the construction site on flatbed trailers and assembled by workers from BOG Construction of Berlin Center, Ohio, contractor for the job. The assembly took place in the winter and spring of 1995; concrete abutments were poured the prior autumn.
Actual assembly of the bridge took place in May 1995, when two cranes rented from Midwest Equipment were brought on site to lift the two trusses, each one weighing 48,000 pounds. The cranes "walked" the trusses from their construction site on the north side of Mill Creek to within reach of a 200-ton crane. Workers attached a three-point boom to each truss and guided the erect truss over the gap.
Stanley Westfall had the honor of easing the trusses across the gap. Read more about this bridge, please purchase the book.