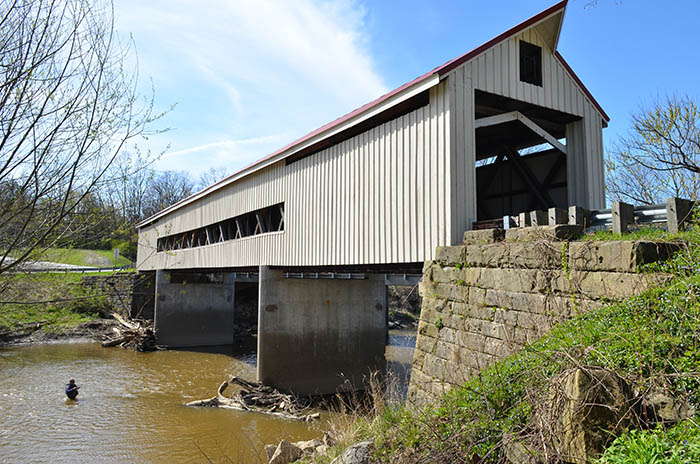 Location:
Windsor-Mechanicsville Road, Austinburg. From Interstate 90 exit at Route 45, go south to Route 307; turn west (right) to Mechanicsville Road at Cope's Farm Equipment (barn quilt on garage by road). Bridge is at bottom on the hill.
Construction date:
1867
Style:
Howe truss with arch
Length:
157 feet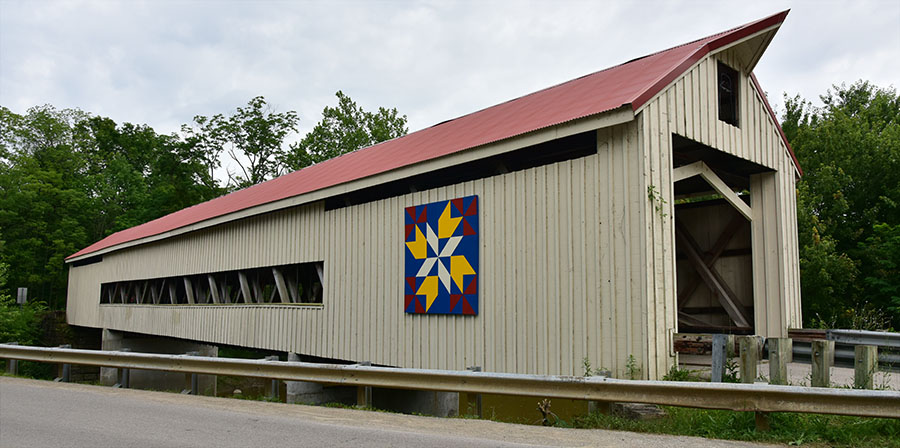 Narrative from "The Covered Bridges of Ashtabula County" by Carl E. Feather.
The oldest of the extant covered bridges over the Grand River, this bridge also has the distinction of being the state's only Howe truss bridge with a Burr arch. It is a single 154-foot span bridge that has been bypassed but nevertheless continues to carry traffic. It is the longest single-span legacy bridge in the county.
Mechanicsville ties with the Wiswell Road bridge in Windsor for being the oldest in Ashtabula County. Both were built in 1867. The Mechanicsville Bridge survived all of the major floods, but the 1913 flood washed out the east approach and did significant damage to the west. The bridge was raised six feet in the process of restoring the roadway, just in case the Grand River ever rose to within lapping distance again.
The Mechanicsville was one of the last to be renovated under John Smolen's plan. The job was performed by Union Industrial Contractors from July 2003 to March 2004. The bridge was rededicated in May 2004 and opened to traffic, although a new concrete span next to it carries travelers more interested in expediency than nostalgia.
This new bridge bypassed the old structure when it could no longer bear the weight of modern traffic. The old structure was kept on life support until money became available for the ambitious and expensive task of renovation. The job cost slightly more than $540,000 and came from a Federal Transportation Enhancement Grant with 20-percent local match.
Duane Urch was foreman on the job. In a 2004 interview for a newspaper story, Urch said he had no idea how workers in 1867 were able to build the thing, given the tools available to them.
"Everybody who worked on that job still hasn't figured out how they put this thing up," he said.
Read more about this bridge in the book available at Amazon.