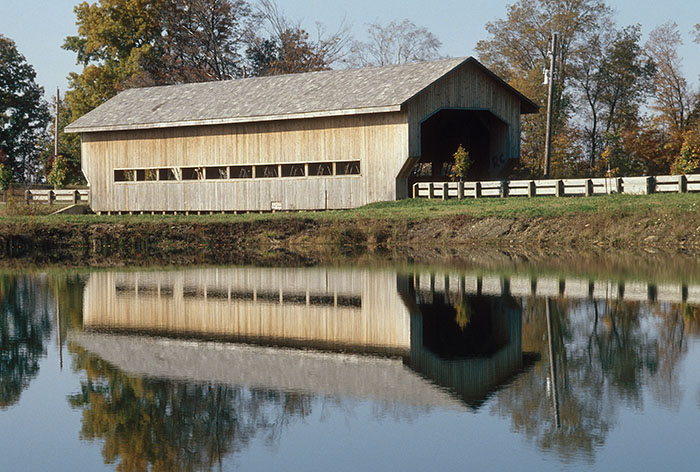 Location:
Caine Road, Pierpont Township.
Directions:
From Route 11, exit at Route 167, go east toward Pierpont. At Stanhope-Kelloggsville Road, turn left and travel north to Caine Road, on right.
Construction date:
1986.
Style:
Pratt Truss
Length:
96 feet
Narrative, excerpt from "The Covered Bridges of Ashtabula County" by Carl E. Feather.
Spanning the West Branch of the Ashtabula River, the Caine Road covered bridge marked the 175th anniversary of Ashtabula County. Insert image 053
The Pratt truss bridge was designed by John Smolen and built in 1986. As with the State Road bridge, construction was done on dry land, but with a twist.
"We cut the channel through and put the channel under the bridge," recalled the late Robert Ellsworth, who worked on the crew that built the bridge in 1986. Ellsworth was interviewed in 2009 by a reporter from The Star Beacon.
Visitors to the 96-foot-long span will notice a pond nearby. Ellsworth says the far wall of that pond marks the bank of the river's former channel, which was rerouted under the bridge after the construction was completed.
The bridge was built in honor of Ashtabula County's 175th birthday. Smolen chose the Pratt Truss design for the bridge. The construction marked the first time a Pratt Truss bridge had been built in Ohio, but it would not be the last. Thomas and Caleb Pratt patented this design in 1844. It was popular with bridge builders throughout the early 20th century, but evidently not in Ohio.
Read more about this bridge, purchase "The Covered Bridges of Ashtabula County."