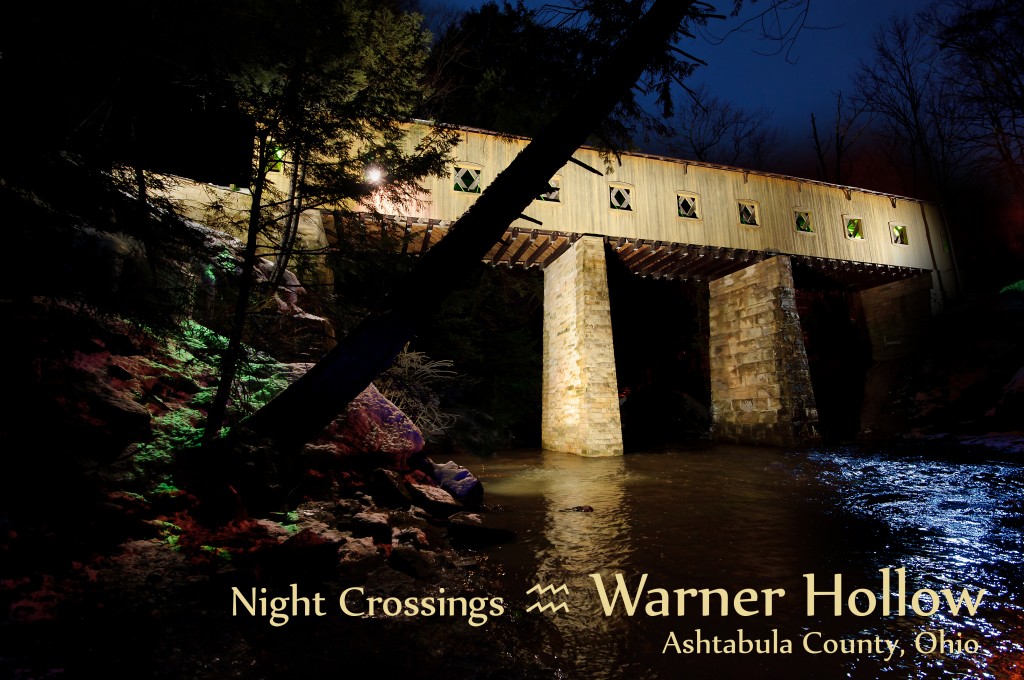 Location:
Off Route 322, west of Windsor. Look for the white Episcopal church building on right side of the road; Covered Bridge Lane is to the left.
Construction Date:
1867, ties with Mechanicsville as the oldest covered bridge in Ashtabula County, Ohio.
Style:
Town Lattice.
Length:
120 feet, three spans.
CAUTION:
As of 2015, the landowner,  Camp Whitewood, does not want people on the property below the bridge. Nor should you attempt to park near the bridge in the small pull off as the camp claims ownership of that as well. Enjoy the bridge from the road or your car only; if the landowner catches you on the property or discovers you have published pictures of the bridge showing it from the perspective of being on the Camp property, you may face legal intimidation.
The Wiswell Road covered bridge, in Warner Hollow west of Windsor, towers above Phelps Creek on two piers. The bridge was built in 1867 and spans Phelps Creek. It is 120 feet length and has three spans.
The gorge cut by Phelps Creek in is rocky, deep and heavily wooded, a favorite haunt for photographers and the Amish, who on Sundays frequently make a visit to the bridge the centerpiece of a family outing.
The bridge rests on sandstone abutments that were most likely cut from a nearby quarry. These abutments were modified and wing walls added during the extensive renovation completed by the county in 2004.
There are two piers, one of cut sandstone and another of concrete, that give the bridge additional strength. During the renovation that returned the bridge to full service, a fieldstone pier was replaced with one made of concrete and finished to look like sandstone. Ashtabula Construction performed the concrete phase of the work in 2002.
Read more about this bridge, purchase the book.