Location:
Harpersfield Metropark off Route 307. From Interstate 90, take the Route 534 exit (Geneva); head south to Route 307, turn right (west) and take first left to bridge.
Construction date:
1868
Style:
Howe truss with arch
Length:
228 feet, wood part only.
Trivia:
After serving the area for nearly 150 years, the Harpersfield Covered Bridge is tired, very tired. In the next several years, this bridge is slated for replacement. Part of the structure will most likely be reconstructed in the park. A covered bridge will replace the original and the metal span.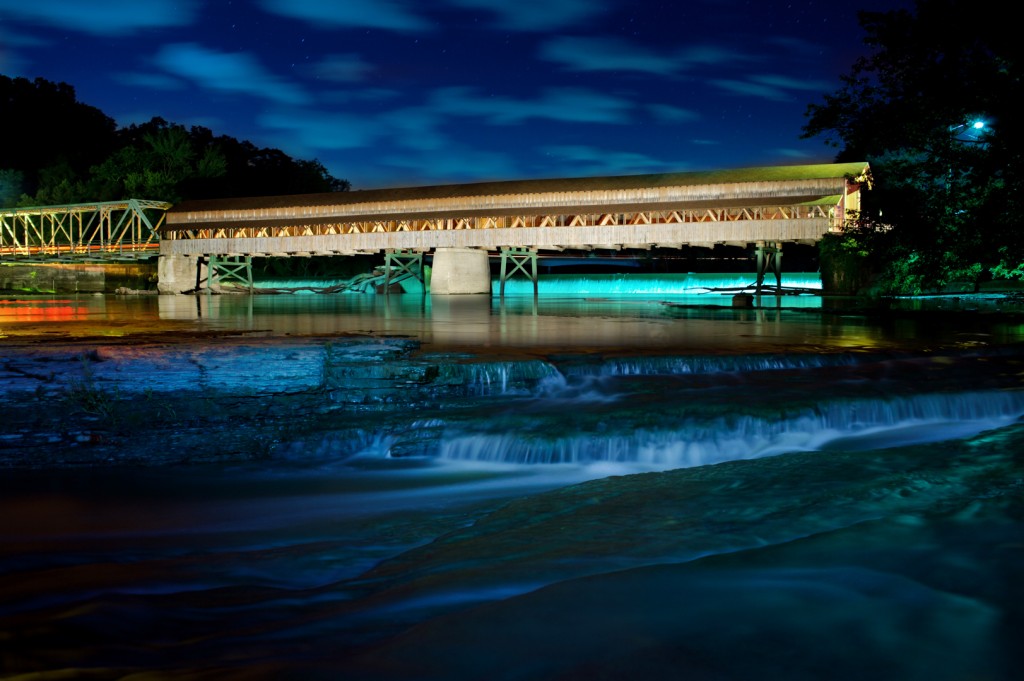 Narrative from "Covered Bridges of Ashtabula County" by Carl E. Feather
The earliest reference to a bridge across the Grand River in Harpersfield was in the Connecticut Land Co.'s early survey papers. It was simply described as a "walking bridge." According to a history published by the Harpersfield Heritage Society, the first bridge built near the site of the present bridge was in 1814 by Josiah Dodge. When an ice jam on the river finally claimed that bridge in 1868, a new covered bridge was built on abutments quarried at Nelson's Ledges in Geauga Township.
The replacement bridge was, until Smolen-Gulf, the longest in the state. The bridge is 228 feet long and has two equal spans of 114 feet each. The sturdy structure, which survived the great flood of 1913, is a Howe truss. The 1913 flood cut a new channel for the river, and a 140-foot-long steel span had to be added in order to complete the crossing. An article in the Aug. 11, 1913, Ashtabula Beacon, notes that 10 feet had to be "cut off" the timber bridge in order to connect to the new steel bridge. A new pier and abutment were built, as well, as part of the work performed by B.F. Hewitt, contractor.
"There is a good ford across the stream which drivers can use at their own risk, but automobiles will be obliged to make a long detour and cross the stream either at Mechanicsville or Clyde," noted the newspaper article.
The road on which the Harpersfield Bridge was built eventually became State Route 534, and as such came under the care of Ohio's transportation department before it was bypassed and the road rerouted in 1959. As such, the Harpersfield bridge was one of the last state-maintained covered bridges in Ohio.
Read more, purchase "Covered Bridges of Ashtabula County"