Handsome, colorful rack cards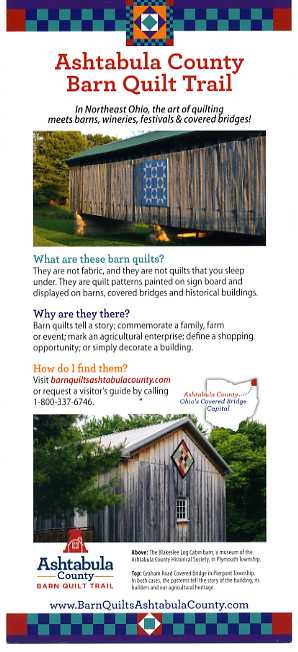 that promote Ashtabula County's Barn Quilt Trail are showing up all over northeast Ohio this spring.
The cards, which feature photographs of several barn quilts and their hosts, were funded by a grant from the Ashtabula County Convention and Visitors Bureau. The CDC of Ashtabula County provided additional funding for marketing.
A professional distribution company will make sure the cards are always in stock at their card racks that are located inside restaurants, motels, lodges and other tourist attractions in Ashtabula County.
Additionally, the committee is making cards and holders available to businesses that do not have the subscription service's rack card displays in their businesses. If you are interested in having a card display, please call the Ashtabula County Convention and Visitor's Bureau, 275-3202, and ask for Jackie.