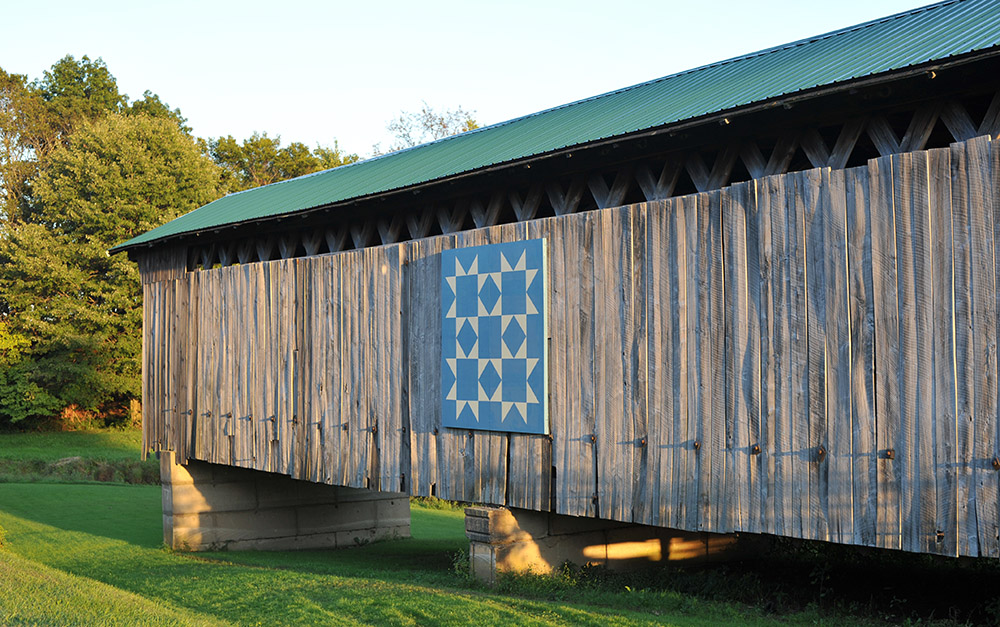 During the Covered Bridge Festival (Oct. 10 & 11), volunteers from the Barn Quilt Steering Committee will be at the Graham Road, Pierpont Township, covered bridge to sell covered bridge souvenirs, answer questions about barn quilts and provide entertainment, education and snacks.
The committee will have cold cider from Cold Springs Orchard, hot chocolate and cookies and other baked goodies. These items will be available for a donation; all donations help support the barn quilt trail.
There will be live music both days, with hay-bale seating for our guests! Music will be inside the bridge, so come out and enjoy rain or shine.
On Saturday, Bob Turner, who signs Bob Dylan and other folk songs, will be our guest performer. On Sunday, Andre Debevc and son will perform.
Our bridge also will host informational sessions on barn quilts and the county's covered bridges. These sessions begin at 4 p.m. each day and will feature Power Points presentations with local author Carl E. Feather, "Covered Bridges of Ashtabula County" and "Hidden History of Ashtabula County" speaking. His books will be available for sale during the event at our bridge.
The bridge events get under way at noon each day; events wrap up at 5 p.m. daily.
Graham Road bridge is special to the committee because it was the first of the county's covered bridges to get a barn quilt. The quilt honors the Benson family, whose story has been intertwined with the bridge for more than a century, when Bob Benson's grandfather helped build it!