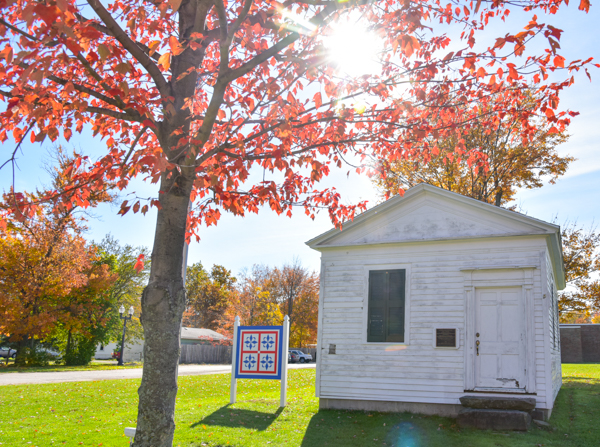 After weeks of hard work by Jacklyn Krysna of the Ashtabula County Convention and Visitors Bureau, trail co-founder Kathy McCarty and designer Linda Natco, our 2016 barn quilt trail map is ready for the printer.
This map, which shows the location of barn quilts, wineries and covered bridges, will be inserted into every 2016 Ashtabula County Visitors Guide. The ACCVB typically has a press run of 80,000 guides, which are printed in January.
You don't have to wait until then to see the map. It is offered as a download that you can view online or print.  Please keep in mind that this map anticipates what quilts will be up as of June 2016, so some that are listed on the map won't be completed and installed until then.
The steering committee is particularly pleased to have at least two sites pertaining to Joshua Giddings sporting barn quilts. His law office in Jefferson has a quilt that is installed on posts, and the Giddings Road Covered Bridge will have a barn quilt on the portal. The former barn quilt was made possible by a generous donation from State Rep. John Patterson, D-Jefferson. The Ashtabula County Historical Society funded the installation. Gary Tabor of Williamsfield Township painted and installed the quilt with assistance from Dave Martin, also of the society.
These sites are expected to be popular spots during the Republican National Convention in Cleveland next year; having barn quilts at these Gidding landmarks will add another layer of interest for tourists.