"United in Agriculture"  is the theme that ties together four barn quilts at the entrance to the Ashtabula County Fairgrounds in Jefferson.
The 4-by-4-foot quilts are displayed on a concrete wall that faces the main parking lot for the fairgrounds, which will host the county's agricultural fair Aug. 11-16.
Ashtabula County's Farm Bureau was an early adopter of the barn quilt trail and has supported the group with both a steering committee member, President-elect Lynn Frank, and donations to the effort. The Farm Bureau also sponsored a 4-by-4-foot quilt at the fairgrounds early in the process of setting up the trail.
On July 29, three more 4-by-4 quilts joined the Farm Bureau's entity, completing the quartet of agriculture boosters in Ashtabula County.
Added to the display was a quilt honoring the Ohio State University's Extension service, the Future Farmers of America (FFA) program at several county schools and the 4-H program.
The pattern for the latter quilt was submitted by Darian Gustafson, a member of the Vaquero's horse and rabbits club. A contest was held earlier this year among the county's 4-H members, who were asked to create the design for the 4-H barn quilt.
"I like art a lot, so I thought I would enter the contest," Darian said, explaining her interest in entering. Darian's design incorporates the 4-H pledge and is based around a flower bloom.
"We all grow like a flower," she said.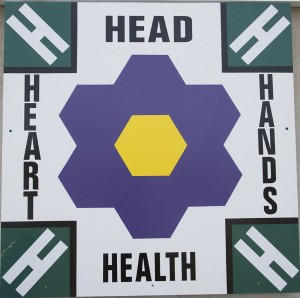 The entries were distributed to the clubs, which voted to select the design that would appear on the barn quilt.
"Your quilt is just beautiful," Chris Angerman, co-founder of the trail, told Darian after the installation was completed.
The three quilts were painted by Jeff and Rachel Scribben of Artistic Woodworks. The Farm Bureau funded the OSU and FFA barn quilts; the county's 4-H program paid for that group's quilt.
"The Farm Bureau really has been the group behind this whole thing," said Jenna Hoyt, OSU extension educator.
"It's been a labor of love by the Farm Bureau to help support the barn quilt trail, and also the youth and agriculture in Ashtabula County," Frank told the group.
Autographics in Jefferson did the vinyl portion of the OSU quilt and Here's Your Sign created the vinyl for the "United in Agriculture" banner.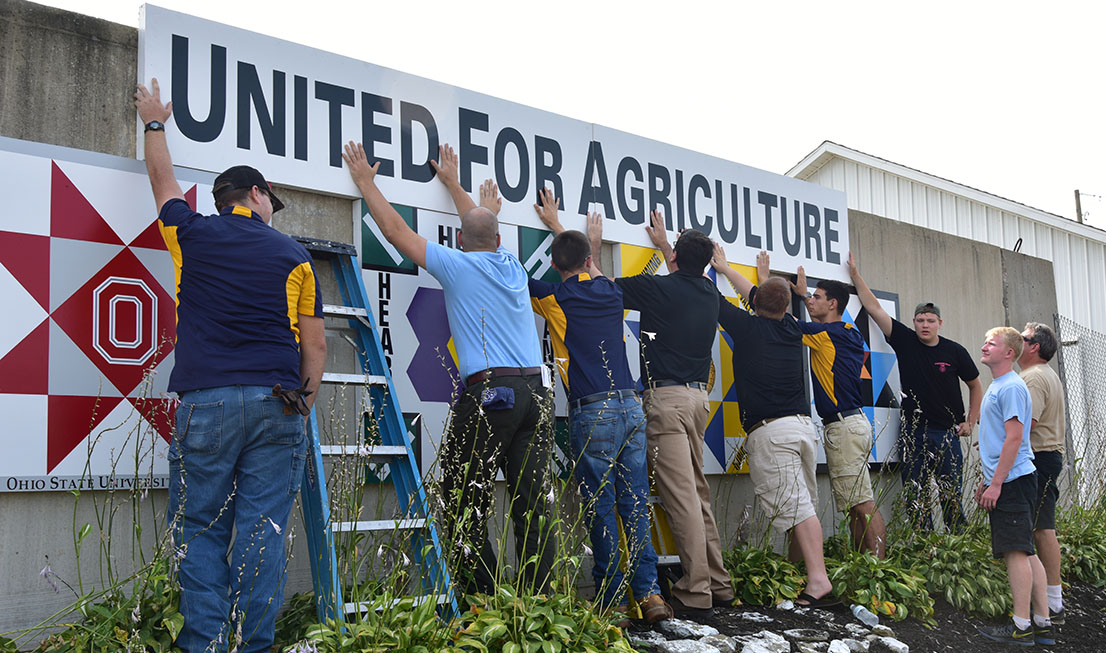 The original Farm Bureau barn quilt was painted by trail co-founder, Kathy McCarty.